Continuing Education for Engineering Educators in Developing Countries via Electronic Communications
T. J. Siller[1], R.C. Jones[2], and G.R. Johnson[3]
This presentation describes a pilot project of attaching a worldwide poster session to an international conference for engineering educators via electronic communications using the Internet and the World Wide Web. It is intended to attract those, particularly engineering educators in developing countries, who are unable to continue their own educations by traveling to live conferences. The hope is that such educators will use provided web locations to share 'best practices' with their peers globally, and in the process of reviewing other such submissions will continue their own professional development. At the time of the IACEE conference in Toronto, the worldwide poster session should be operational. After several months, the papers will be summarized and the results presented as part of an experts' panel at the September 2001 SEFI annual meeting in Copenhagen. These results will be made available globally using the same technologies as the worldwide poster session.
1
Introduction

Engineering educators throughout the World need continued stimulation from colleagues in order to stay abreast of new developments in their field, and thus to stay relevant and up to date in their teaching. Active faculty members with adequate resources often accomplish this collegial interaction through participation in international conferences on engineering education, sponsored periodically by organizations such as UNESCO (United Nations Education, Science, and Cultural Organization), WFEO (World Federation of Engingeering Organizations), SEFI (Societe Europeenne pour la Formation des Ingenieurs, or in its English translation, the European Society for Engineering Education), ASEE (American Society for Engineering Education), etc.

Unfortunately, engineering educators teaching in developing countries often do not have the resources to participate in such conferences. Travel expenses, conference registration fees, and on-site expenses are typically beyond their means. This often leads to a steady decline in their effectiveness as faculty members, as they fall increasingly behind new developments in engineering education.

Engineering has always been a major part of the development of nations and wealth creation. Building infrastructure from roads, bridges, sanitation facilities, potable water, and the development of industries from mining to high technology all require that a nation educate its own engineers. Sending bright young people abroad for education works for a while, but the process ultimately requires that these people be educated at home. In the developing world, many engineering educators have been educated abroad, return home to educate the local population, but then fall further and further behind due to the inaccessibility of state-of-the-art methods in engineering education, 'best practices' of peer instructors, etc. Maintaining networked connectivity is one way the future will provide a nation with a base of well-educated engineering graduates to fuel technical industries.

An electronic conference, based on current web-based technology, has been designed to provide engineering educators in developing nations access to professional development materials. This conference is designed to connect faculty from all over through electronic interactions. In the following sections, details of this conference are provided.
2
Conference description

The First Electronic World Conference on Engineering Education presents a new mechanism for meeting the continuing professional development needs of widely dispersed engineering faculty members around the World - particularly those in developing countries. Electronic communication technologies (Internet and the World Wide Web delivery of papers, e-mail interchanges of ideas, satellite television broadcasts, streaming video, etc.) are used to gather important and timely information on engineering education and then disseminate it throughout the World in a structured way - for the benefit of engineering educators unable to participate in face-to-face conferences, which cover similar topics.

Based on National Technological University's experience, sufficient electronic communication technologies exist, at least in capital cities throughout the developing world, to allow participation in such an electronic conference, so that engineering educators there will be able to participate readily. In target developing countries (e.g. in Africa, Latin America, Asia, Central and Eastern Europe) the availability of Internet accessibility will be assessed to determine the easiest and most cost effective access. It is anticipated that as many as five or six web-based communication sites will have to be selected by the organizers of this conference in order to achieve the broad coverage in developing countries that is intended. Currently, the conference organizers have commitments from the UNESCO International Centre for Engineering Education (UICEE) at Monash University in Melbourne, Australia to support Southeast Asia; the Technical University of Budapest for supporting Eastern and Central Europe; the University of Cairo for supporting the Arab States in the Middle East; and the Federal University of Rio de Janeiro for supporting Latin America. Arrangements are pending with a university in South Africa and preliminary contact has also been made with a university in China.
2.1
Format

The conference has been organized similar to traditional, placed-bound conferences. Accepted papers are arranged into thematic sessions. This is accomplished on the worldwide web by placing related papers under various entry points from the main conference web site. Figure 1 presents a schematic of the conference organization. Under theme one is shown the components that are common to all the theme sessions. As indicated, the conference papers are presented via web-based slides, a format common at conferences. PowerPointâ will be used to generate the slide presentations and accompanying audio. Also, the full text of each paper is available for either reading directly on the web or downloading for later reading and/or printing.

As is the case at traditional conferences, discussions related to individual papers are encouraged. Threaded discussion groups are associated with each individual paper to facilitate discussion between participants, including authors.

To stimulate the type of discussion that often occurs as a wrap-up at the end of a session, treaded discussions are also organized around each of the thematic sections of the conference, Figure 1. These discussion groups can explore global issues related to the sessions' themes. Participants can discuss broader issues, compare and contrast papers, and make connections with participants with similar interests.

At the completion of the conference, a summary session will be held at the 2001 SEFI conference during September 2001 in Copenhagen. A group of technical experts has been formed to review the conference activities. This group will conduct a daylong session to present their summaries, and interact with one another. Transmission of the session by video means to electronic participants Worldwide is planned. An audience will be present, consisting of participants in the face-to-face conference to which the electronic conference was adhered. Logistics of live electronic interaction with electronic participants, and time zone constraints will have to be worked out for maximum effectiveness. Taping of the session has already been arranged through the Danish Technical University.

Video recordings of the live session will also be made available, and electronic copies of all papers, to any developing country engineering educators unable to connect directly to the live transmissions. Distribution of recordings would be on an at-cost rate. Multiple formats will be provided, including CD, Video, and Internet.
2.2
Evaluation

The success of this conference will be measured using several metrics. First, because the targeted participants were from developing nations, it is important to look at the geographic representation of both authors and participants. Next, as with any conference, the total number of participants is a critical measure of success. The following mechanisms have been designed to allow for a thorough evaluation of this conference.

· The conference web site will include a "registration" form that will gather data from all site visitors. This form will solicit information about the attendees, including name, address, and affiliations. This information will allow us to track the geographic reach of the conference. Once a participant has registered, access will be directly to the papers during all subsequent visits.

· Each paper will have a counter that will monitor the number of visits to the particular paper. This will allow us to track how many times a paper, and cumulatively all papers, are being read during the time preceding the SEFI conference in Copenhagen.

· Preliminary results of the geographic and visit evaluations will be presented during the live conference.

· Questionnaires about the conference will be sent to each author and panel expert to get the perspective of both groups concerning the operation of the conference.

· Each site visitor will be provided the opportunity to comment on the quality of the conference through an Internet survey that will address both the technical content of the papers, and the logistics of attending an Internet conference.

The ultimate success for this conference will be measured in how well it has accomplished the goal of forming connections between educators throughout the developing nations.
3
Conference Status
3.1
History

The first call for papers for this conference was distributed in September of 2000 as part of the SEFI announcements for their 2001 conference. Starting in October of 2000, a call for papers was sent via email to faculty members in engineering departments at universities all over the world. The email solicitation was sent to approximately 2000 people, located on six continents, in over 70 countries. During this time, a web site has been maintained with links to the program directors, www.webconferences.org.
3.2
Participation

At the time of the writing of this paper abstracts for the conference having started to come in. Abstract to date have come from approximately twenty different countires.
4
Summary-Conclusions

Once a set of effective processes have been demonstrated through this pilot demonstration conference, the results may be easily transferred to other conference sponsoring groups for inclusion in the normal conference set of activities. Thus, such conferences would become part of the general framework for many international conferences.

Authors from developing countries seldom have access to funds to support international attendance at conferences. Providing such funds is outside the realm of possibility. Even at international conferences, most contributors from the developing nations are administrators, not faculty. To provide some sense of what is happening worldwide through international conferences, some form of electronic participation seems the only cost effective method.

The convergence of computing and telecommunications has been pointed at for several decades as a changing paradigm. Yet, most of the changes have been relatively simple. Certainly, the World Wide Web alters the ease of getting information and the hypertext transfer protocol is the killer application that killed client/server computing. As the globe becomes more abstract, movement of more than data and information has to occur. Global electronic communities have to be constructed. This project aims to develop a global electronic community among engineering educators and for the first time, include as citizens, engineering educators from developing nations to share their experiences and learn from their peers.

In the not too distant future, conferences as described herein should become pervasive. Travel requirements must decrease if our global society is truly to become a sustainable environment. This project is a pilot to demonstrate that a meaningful transfer of practices can be accomplished without individuals traveling thousands of miles to meet in a face-to-face setting. Other organizations should immediately grasp the importance of such opportunities and distribute the know-how developed during this project to literally hundreds of organizations that sponsor conferences.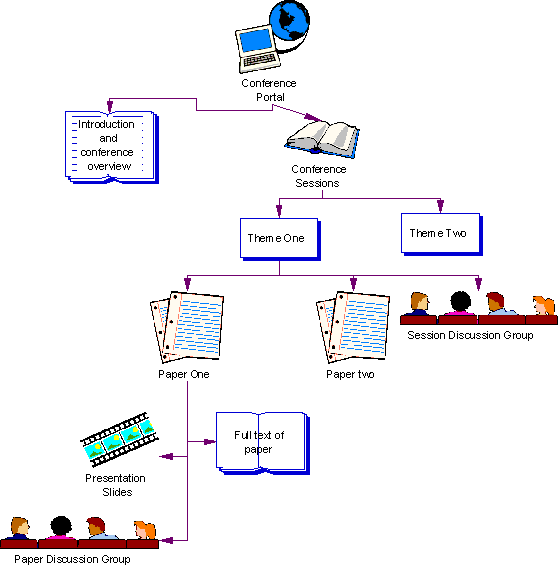 Figure 1: Schematic of Conference Organization
Russel C. Jones is a private consultant, working through World Expertise LLC to offer services in engineering education in the international arena. He previously served as Executive Director of the National Society of Professional Engineers. Prior to that, he had a long career in education: faculty member at MIT, department chair in civil engineering at Ohio State University, dean of engineering at University of Massachusetts, academic vice president at Boston University, and President at University of Delaware.
Dr. Gearold R. Johnson is the Academic Vice-President of the National Technological University (NTU) in Fort Collins, Colorado. Before joining NTU, he was on the faculty at Colorado State University (CSU) from 1971. In the ten years before his retirement from CSU in 1994, he held the George T. Abell Endowed Chair in Engineering, Colorado State University's first endowed chair. Dr Johnson is Co-Editor of Computing: Archives for Scientific Computing published by Springer-Verlag, and Assistant Editor of the International Journal of Computing and Software Engineering published by Ablex Publishing. Dr Johnson is a member of the International Committee on Engineering Education (ICEE) that advises the Director-General of UNESCO in Paris, France.
Dr. Thomas J. Siller is a visiting Professor at National Technological University in Fort Collins, Colorado. He also holds an appointment as an Associate Professor at Colorado State University where he has been on the faculty since 1988. During 1997-1998 he served as the Associate Dean for Undergraduate Studies at Colorado State University. Dr. Siller served on the Board of Directors for the Technology-Based Engineering Education Consortium (TBEEC), and was the program chair for the 1997 national conference.